July 10, 2020
Best Floor Cleaning Mops In India
With the corona virus pandemic spreading across the world at a rapid pace, it's time to realize the importance of cutting down the risk of infection at home by cleaning your floors and surfaces by mopping it regularly. Even though you might be using a disinfectant product to clean your floors, having the right kind of cleaning mop is important to clean the floor surface thoroughly. If you thought mopping the floor is a strenuous task, then spin mops are here to help you clean the floor without having to strain your back, knees and hands.
These mopping devices are designed with the latest spin mechanism to help you clean the floors effortlessly without having to touch the dirty mopping water. If you are planning to invest in a best cleaning mop for your home, we have put together a list of best floor cleaning mops in the country to make the selection process much easier.
Top 10 Floor Cleaning Mops In India For 2020
Spotzero by Milton Prime Mop
Milton introduces Spotzero that comprises an array of convenient as well as reliable cleaning and dusting products for deep cleaning. This smart mop is designed with a mop head featuring microfiber material to absorb water completely and can last long. The handle with clip-lock mechanism of this mop facilitates height adjustment and can mop all types of floors.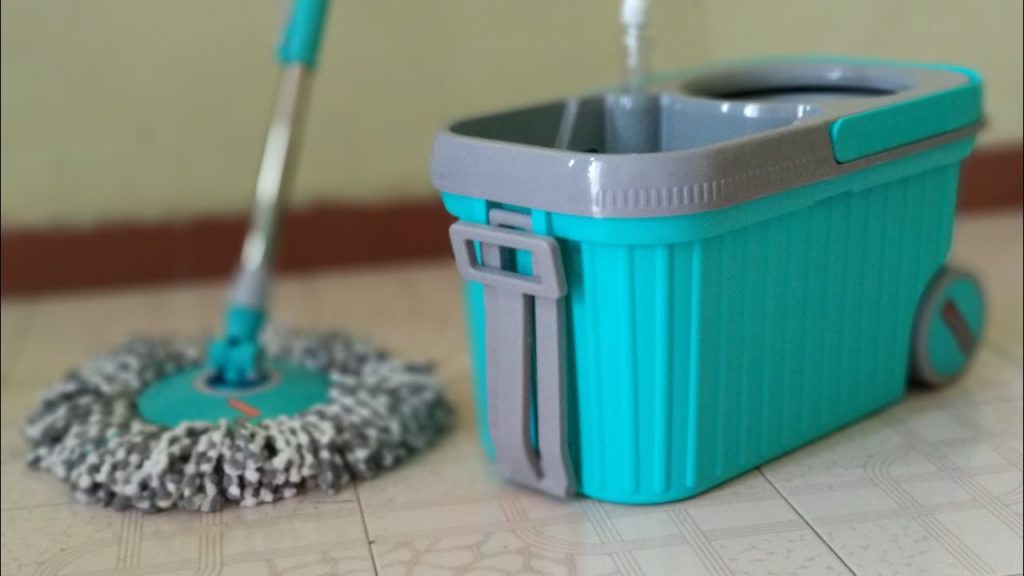 It is designed with a spin head having an angular axle to furnish mopping at 360 degrees. The spin bucket offered with the spin mop has a handle and wheels fitted at the base to use it conveniently. Draining the mopping water from the bucket is easier, as it has a built-in drainage plug. Plus, it has a liquid dispenser to dispense floor cleaner liquid.
Price: Rs. 1,199
Spotzero by Milton E-Elite Spin Mop
The Elite Spin mop from the house of Milton Spotzero is designed to keep your premises squeaky clean with its lint-free and non-abrasive microfiber spin head with optimum water absorbency. Cleaning large floor surfaces is a breezy affair when you have this spin mop with 360 degree performance angle.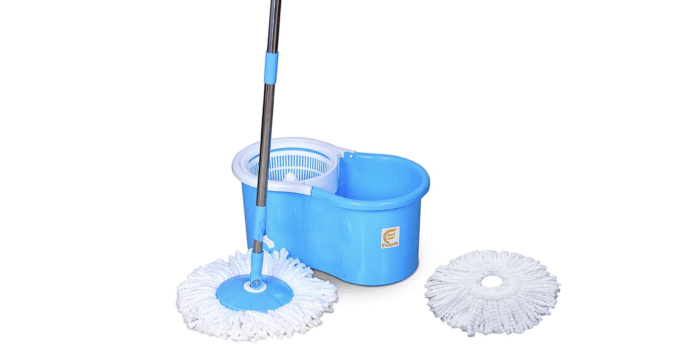 The twin bucket system of this product helps in dipping in soapy solution in one tub and drying the mop in another. The mop handle is designed with a handle lock system to adjust the height without having to bend down for mopping. The twin bucket with big wheels at the base saves you the trouble of carrying it while cleaning the floor.
Price: Rs. 945
Esquire 360 Degree Mop Full Stick
The Esquire floor cleaning mop comes with a self-wringing head that makes it dry quickly when pushed against the smart spin bucket with an in-built wringer. When compared to regular foot pedal spin mop, it can dry 5 times quicker and is made from high-quality plastic material.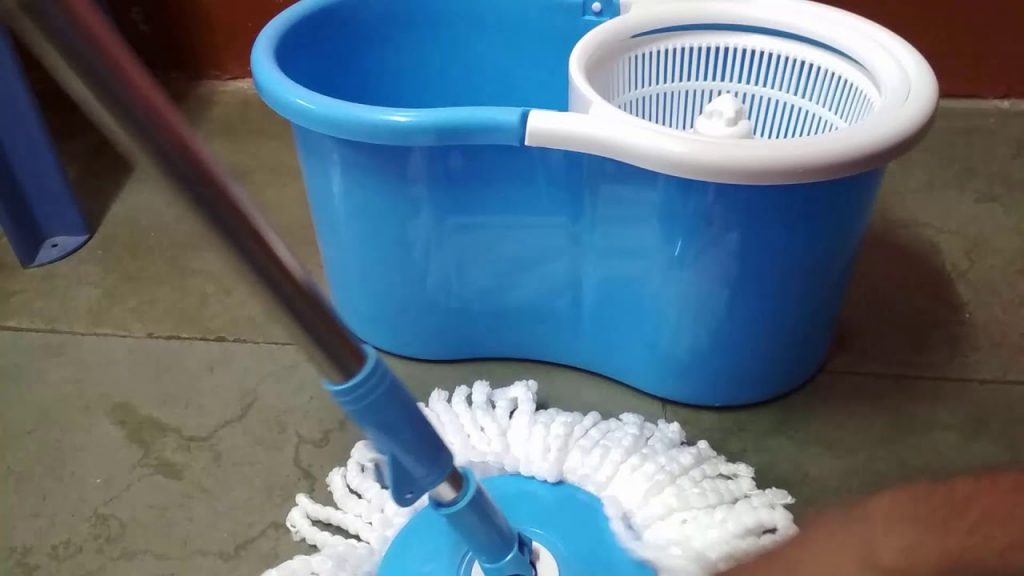 This spin mop is designed with a lightweight telescopic stainless steel handle that can be adjusted from 45 degrees to 180 degrees. Reaching the corners of your rooms is made easy with the 360-degree deep cleaning of this cleaning mop. The machine washable microfiber head of this mop makes it ideal for both dry and wet floor cleaning.
Price: Rs. 1,757
Esquire Elegant Spin Mop
The Esquire spin mop is an apt choice for the homes that would like to get rid of their traditional foot pedal spin mop, as it can dry five times better than it with its self-wringing head. This mop can be assembled easily and is equipped with a click lock system to hold it intact while wringing dry and mopping.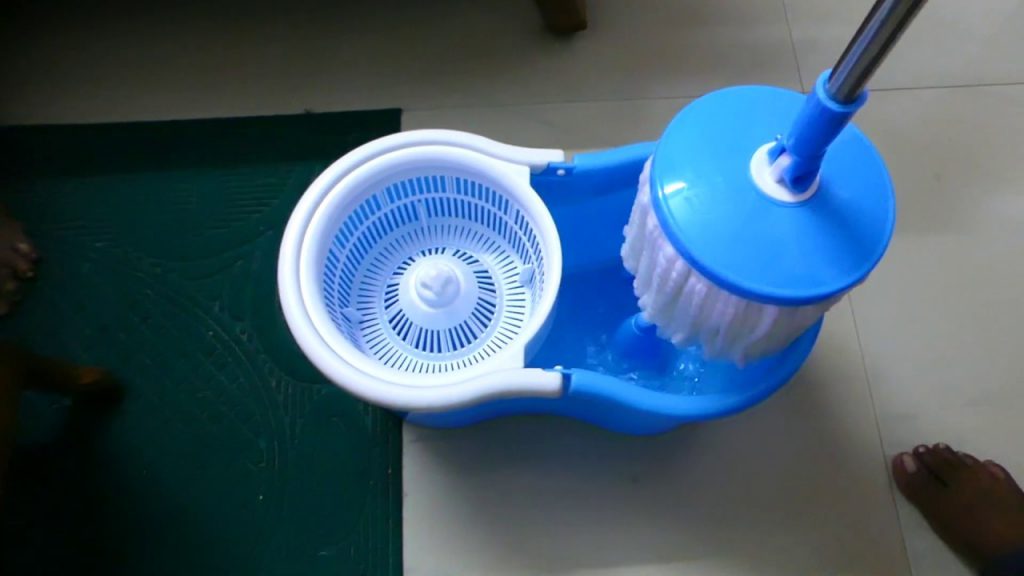 This stainless steel mop is designed with a telescopic handle that can be used to wipe the floor surfaces from 45 degrees to 180 degrees. This floor cleaning mop is an excellent choice to take care of deep wet and dry cleaning, as it has a machine washable spin head with super absorbent microfiber.
Scotch-Brite 2-in-1 Bucket Spin Mop
The Scotch-Brite spin mop is an apt choice to clean your office or home in a few minutes, as it has a microfiber mop head that can remove even fine hair and dust. This product with twin spin bucket is offered with 2 refill spin heads with microfiber. The telescopic handle design has height adjusting feature to reach deep under the furniture pieces and the 360-degree cleaning action removes dirt and dust from the room corners.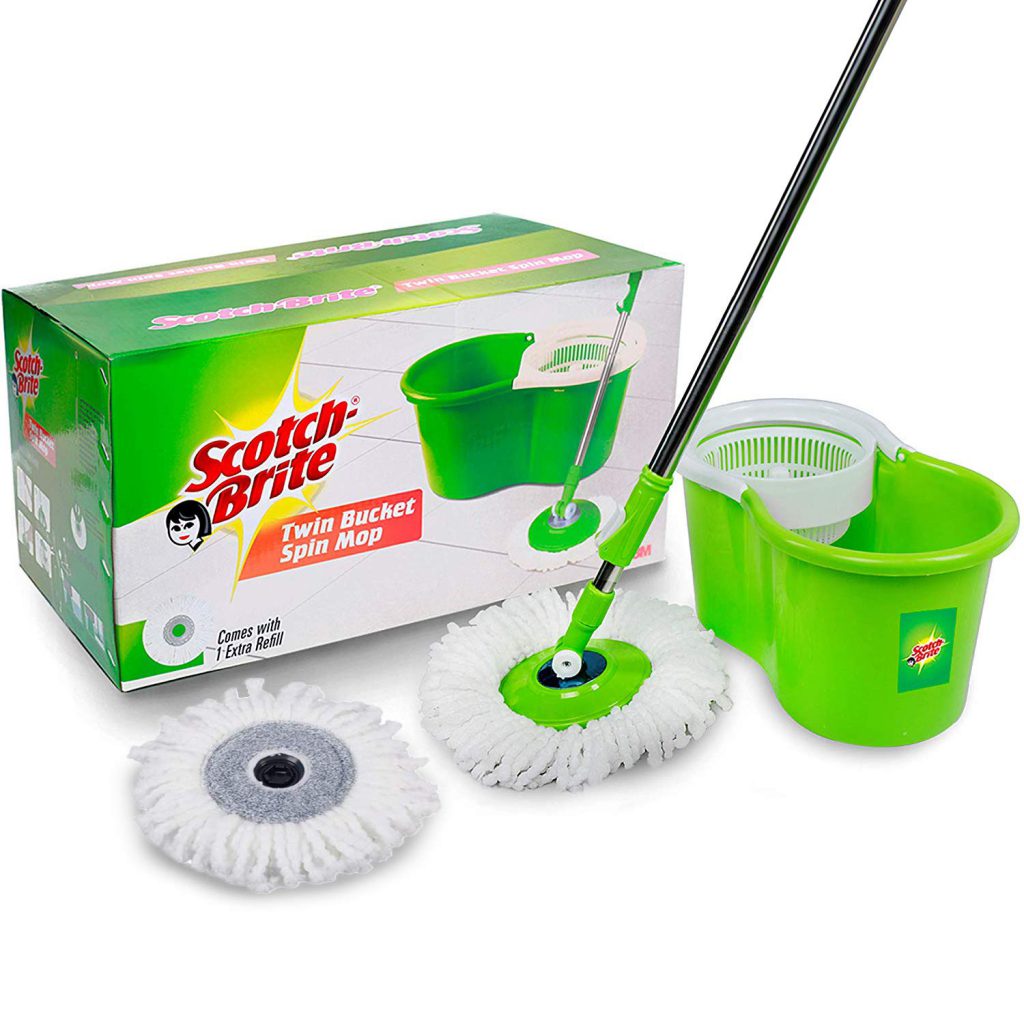 This mop comes with twin buckets that support rinsing and wringing the mop head saves you the trouble of bending and touching the dirt filled mop water. Its lightweight twin bucket has a long handle to carry it easily.
Price: Rs. 2,899
Gala e-Quick Spin Mop
Gala is a popular brand in India that has been selling home cleaning products since its inception in the year 1986. This E-quick spin mop comes with a flexible head that lets it clean at 360 degrees to make cleaning around the edges, corners and under the furniture pieces quite easy. It is crafted with an extendable handle with height adjustable feature to match your specific comfort needs.
The cotton microfibers on its mop head possess excellent absorbent capacity and can be used on a wide range of floor surfaces to keep it free from pet hair, dust, spills and stubborn dirt. Plus, it works with a self-wringing mechanism and a quick dryer bucket to keep your hands free while mopping floors.
Rs. 1,596
Spotzero By Milton Ace Spin Mop
The Spotzero floor mops by the renowned brand, Milton are one among the highest selling products in the country. The main advantage of owning one of these spin mops is its durability and quality of service it assures. This product is the only cleaning mop that comes with a 1-year manufacturer warranty.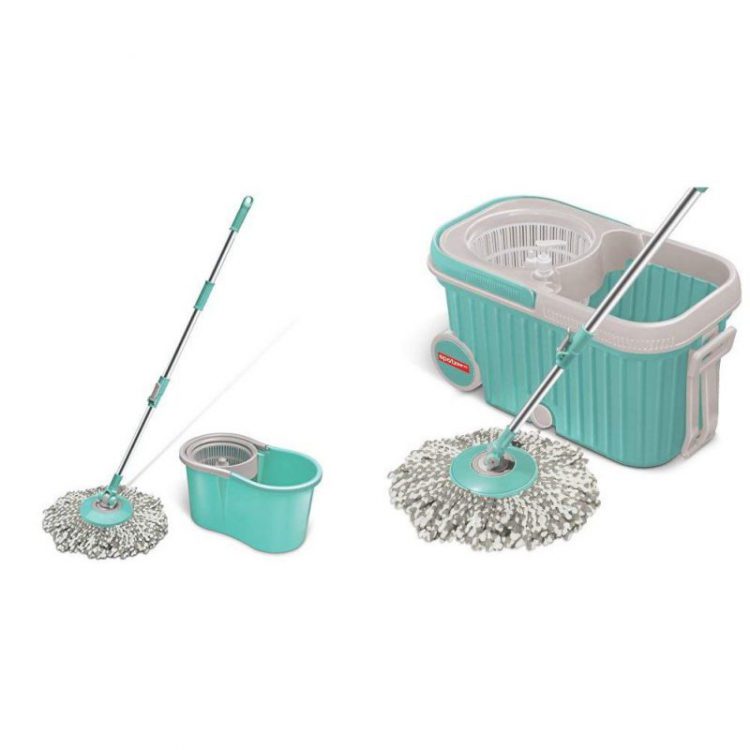 The spin bucket has 2 sections to wring the mop and clean it simultaneously. Cleaning oil spills, dust and dirt is easy using this floor mop, as its spin head delivers 360 degree cleaning performance. It has a long handle with good grip and is made from lightweight plastic for easy handling.
Price. Rs. 945
Spotzero By Milton Classic Mop with Wheels
This Spotzero spin mop offered by Milton is an apt choice for homes that wish to remain fresh and germ- free round the clock, as it is powered with microfiber technology to remove fine dirt, grime, liquid spills and hair in a single sweep. It comes with a spin bucket with dual compartments and two microfiber refill mop heads for easy replacement.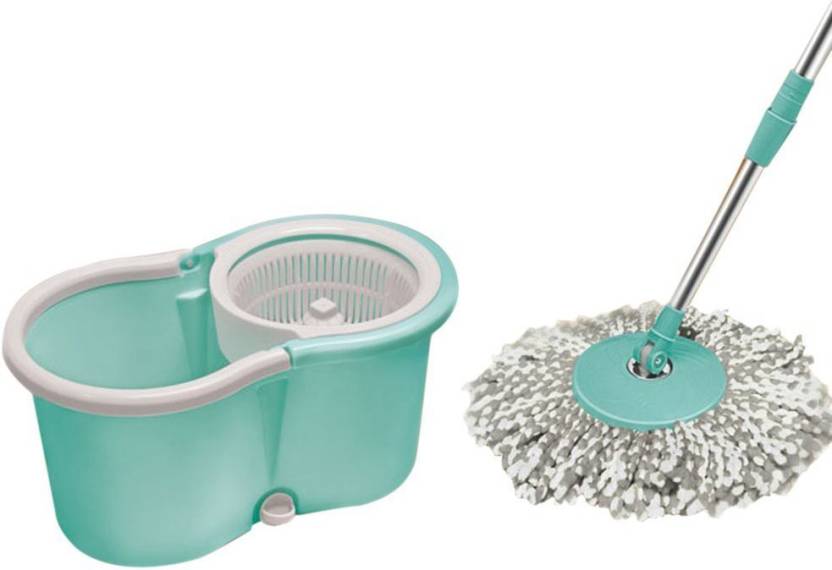 The twin bucket system comprises a water outlet to empty the mopping water and has a wide handle design with good grip for easy handling. The spin head cleanses the floor with 360 degree action to reach the corners completely. This spin mop can perform dry and wet cleaning on surfaces like glass and floors.
Abi Cleaning Solutions Mop Floor Cleaner
Your search for a cost-efficient mopping solution for your home will end when you bring home the spin mop offered by Abi Cleaning Solutions. It comes with 6 microfiber refill mop heads to offer better value for money. The spin head with microfibers displays super absorbent prowess while deep cleaning the floor surfaces at 360 degree angle.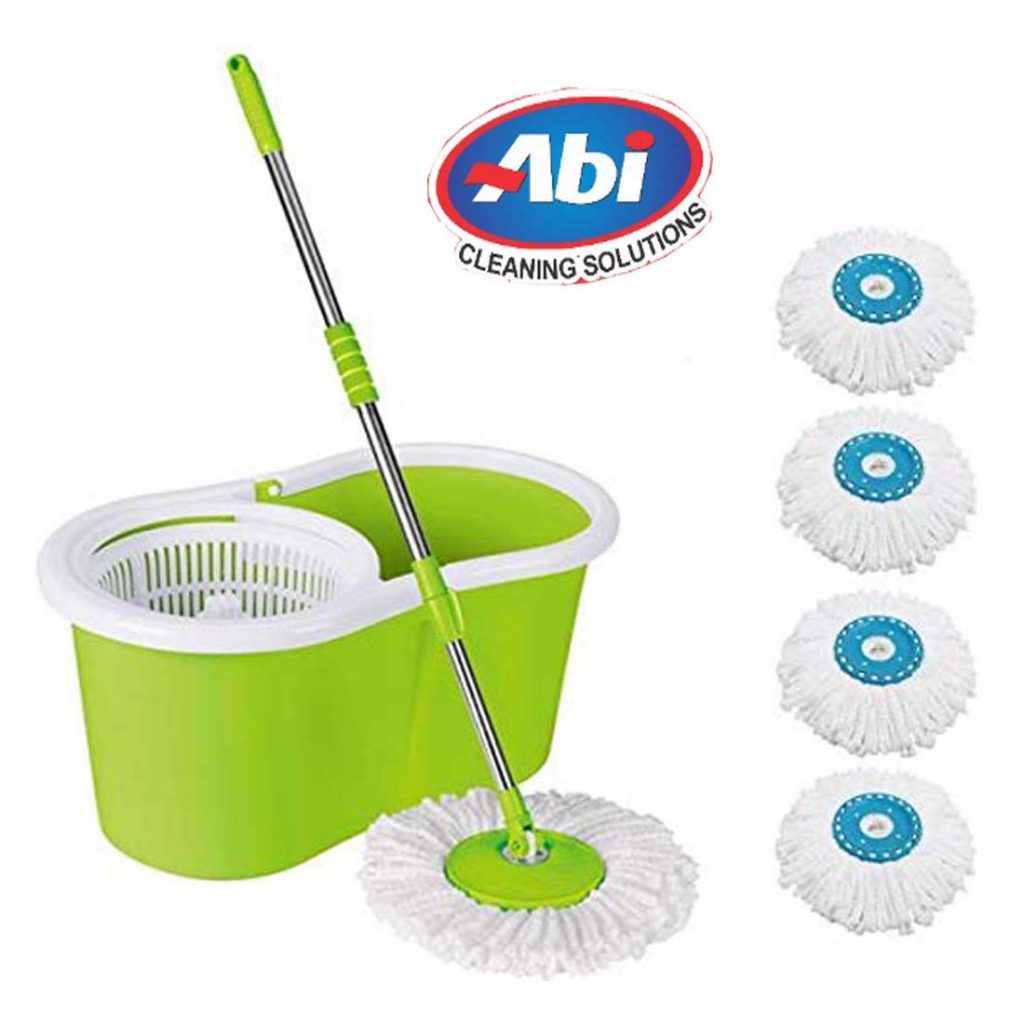 Be it walls, glass panels or hard surface floors, this mop can handle it all. The spin bucket with a built-in spin agitator loosens the dirt and debris from the spin head while rinsing. The telescopic handle can be adjusted up to 51 inches to cut down the strain on your joints while cleaning hard floor surfaces.
Esquire Plastic Mop Set with Bucket
The floor cleaning spin mop from the house of Esquire is crafted out of stainless steel to deliver excellent performance for many years. This product with 360 degree cleaning ability is a cost-effective solution to keep your homes free from germs, insects and dirt. With 2 microfiber refill mop heads, replacement is simpler.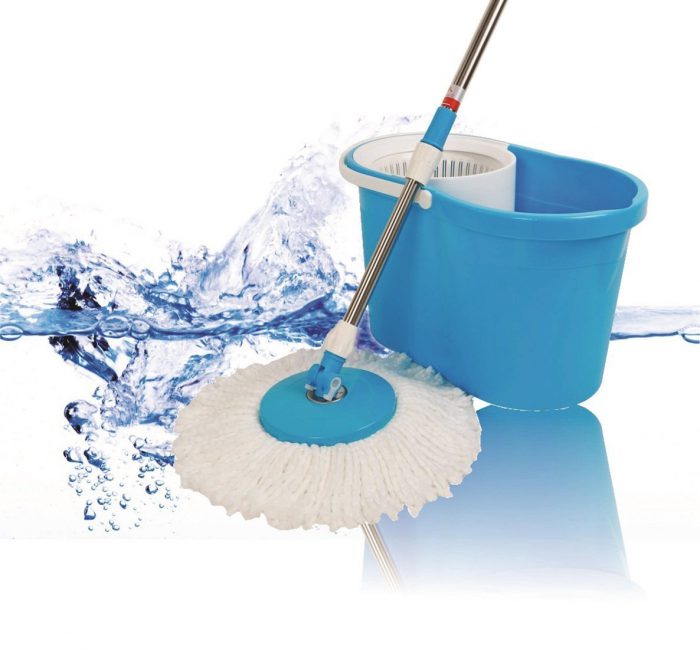 The twin bucket mechanism of this product with a spin basket for wringing and another area for cleaning prevents you from straining to wringing and cleaning the mop with hands. This floor cleaning mop is crafted from high-grade PVC plastic to assure durable service in the long run. Its market price is around Rs. 516.
We understand that mopping the floors is a back-breaking task, which is why we have compiled a list of products with quick wringing ability and spin buckets to assure a smooth mopping experience. We are sure the list we have compiled is informative enough to help you make the best buying decision.