July 15, 2020
Best Foot Massagers In India
No words can explain the comfort you will experience during a relaxing foot massage after a long day at work. If you exercise a lot or are on your feet all day during work, a foot massage is a godsend option to pamper your tired feet. However, if you are not ready to spend a lot on foot spas to relax your aching feet, buy a foot massager to soothe those tired muscles.
Foot massagers can help relieve soreness, stress and knots of the feet while stimulating blood circulation. These devices are an excellent choice for people with plantar fasciitis and diabetes, as its pulsing nodes produce subtle pressure vibrations to work on the ligaments, joints, tendons and connective tissues to relieve pain. Our health and wellness experts have compiled the list that consists of the 10 best foot massagers in India after performing a thorough research on each.
Top 10 Foot Massager In India For 2020
1. Lifelong LLM99 Foot and Leg Massager
The Lifelong LLM99 Foot and Leg Massager works by producing electronic stimulation on specific pressure points on the sole and its sides to remove leg fatigue effectively. The calm massager comes with extended height adjustment and utilizes 3D biometric massage method and latest magnetic therapy to improve foot health. It is designed with 4 kneading disks to massage your ankles and feet with a kneading massage effect.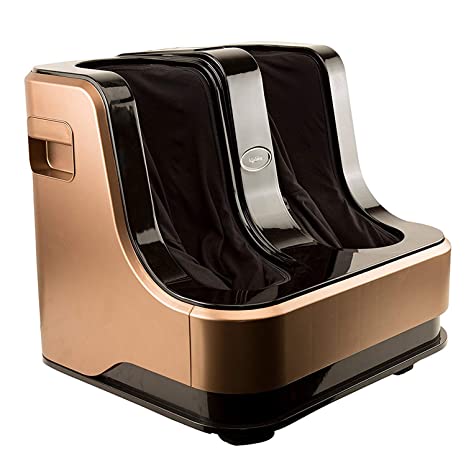 Get excellent leg massage experience by using different modes like 3-speed manual mode with a bi-directional rolling action, custom mode for specific areas like toe, sole and arch and 4-speed auto mode. Plus, the foot massager is designed with washable fabric, an LED display with touch buttons and has a noiseless operation. The massager with 4 motors of 80W power has auto shut off feature.
Price: Rs. 11,499
2. Lifelong Electric Foot Spa Massager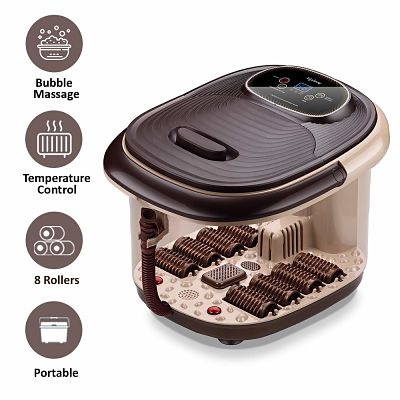 The Lifelong Electric Foot Massager is designed with 8 manual rollers to create an acupuncture massage effect for relieving pain, remove callus and improve circulation. It also has a bubble massage option that can eliminate stiffness in the muscles and joints by creating bubbles. The energy emitted by the infrared light of this foot spa machine combats the bacteria and germs on the feet.
The digital display of this foot massager shows various functions like temperature settings, timer, massage type etc. The lightweight foot massager machine comes with a no slip handle and a drainage pipe to discard the used water after a foot spa session. It uses advanced heating technology to heat the water in a couple of minutes for each foot spa session.
Price: Rs. 1,749
3. Dr Physio (USA) Foot Spa Massager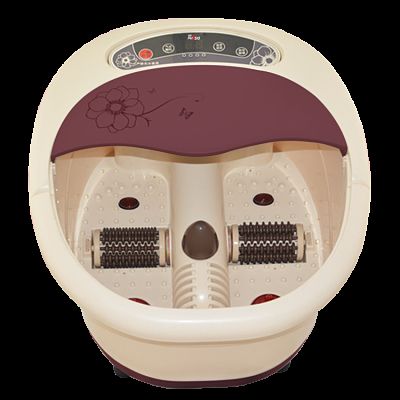 The Dr Physio Foot Spa massager comes with a one-button start for easy operation and is built with high-grade waterproof material with an IPX4 rating to make it a safe product. It comes with a large in-built digital display to exhibit the selected settings and its performance. This foot spa machine is studded with multiple massage rollers to offer an impressive spa foot massage.
Feel your muscles relaxing and pain leaving your feet muscles while pampering it with the infrared therapy that heals and stimulates blood circulation. This massaging machine has a heat resistant portable body along with a compact handle to take it while you travel. Get a salon-like foot massage with bubbles in warm water with vibrations to feel rejuvenated after a tiring day.
4. Dr Physio Electric Air Compression Foot Massager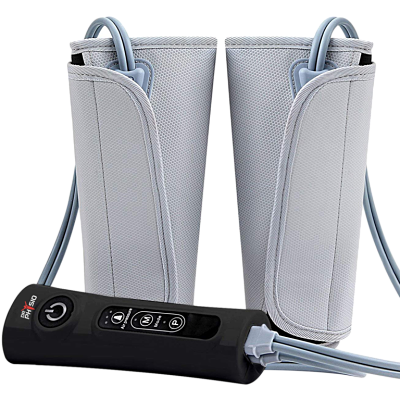 Dr. Physio foot spa massager utilizes air compression technique to relieve pain and fatigue from calf muscles, legs and arms. The adjustable cuffs of dirt proof fabric of this foot massaging machine follow the deflation and inflation process to enhance blood circulation, which makes it ideal for people with restless leg syndrome and varicose veins.
This massaging machine comes with a handheld controller featuring the power on/off button, intensity control with 3 speeds, red, orange and green indicators and mode selector button for easy operation. It has dual mode functions, such as Mode 1 with 4 different massages, and a one way massage mode. The Velcro wraps of this massager measures 22 inches in length with built-in air bags that work with air pressure and can be wrapped on legs, thighs and hands.
5. Pokari Foldable Foot Massager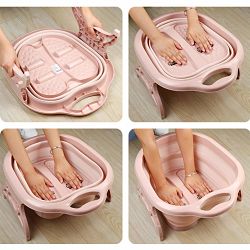 The Pokari foot massager is a must-have option at every home, as it can be used for a relaxing foot spa or pedicure session and can be stored easily with  space-saving foldable design. It is designed with two flexible rollers that massage your soles perfectly to promote blood circulation, smooth meridian, improve metabolism, eliminate fatigue and relieve pain.
The concave bottom measuring a height of 2 cm is capable of retaining the hot temperature of the water while preventing heat dissipation to make foot spa session last longer. The 4 massage balls on either side of this foot massaging appliance with a no-slip handle offers professional massage to relieve the painful knots while pampering your leg.
6. ZALTAN EMS Foot Massager Machine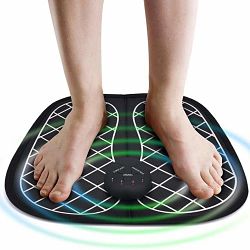 The Zaltan foot massaging machine flaunts a distinct design like a massage pad to let the users stand on it for a few minutes to enjoy a relaxing foot spa session. This latest foot massager utilizes the Electric Muscle Stimulation (EMS) Technology based on neuromuscular electric stimulation that works on your feet muscles by contracting and relaxing it through electric impulses.
At the base of this foot massage pad are the buttons for Power On/Off, Mode changer, Intensity increase and decrease button and a light indicator in red. It has a lightweight foldable design that makes it easy to carry while traveling. You can choose from 6 different modes from Mode A to Mode F and enjoy a masseur-like massage experience to get relief from sore muscles and heel pain.
7. Lifelong LLM72 Foot Massager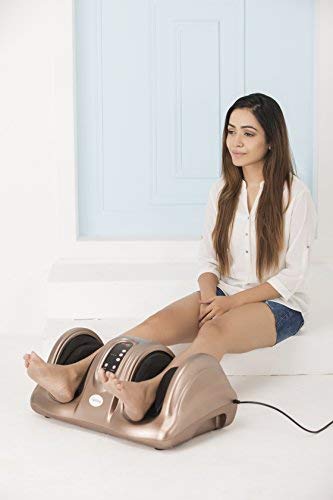 The Lifelong foot massaging machine works with a combination of magnetic science, 3D biometric method, meridian method and traditional medicinal techniques to eliminate stress, fatigue and pain from your legs.  It has 4 customizable programs from P1 to P4 to cater to the individual foot massage requirements to offer a rejuvenating massage experience.
The foot massager focuses on treating several ailments like migraines, high blood pressure, insomnia, detoxification, neck pain etc. by working on your acupressure points. This appliance has an easy to carry compact design to use it on the go.
Price: Rs. 5,599
8. Hojo Foot Spa Roller Massager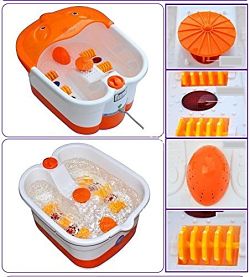 If you are an athlete or have to stand for long hours, then this foot massager is just for you to get relief from sore feet. This massaging machine is specifically developed to deliver an intense vibrating massage by producing invigorating vibrations for encouraging blood circulation while soothing weary feet.
It is equipped with activated motorized massage rollers that target specific areas like tired soles and works with the oxygenated bubbles created by water jets and bubble strips to relieve pain and fatigue.  To get a relaxing spa massage, add a few drops of aroma oil to the 30° C hot water to remove redness, swelling and throbbing of feet.
Price: Rs. 1,299
9. Lifelong LLM81 Foot Massager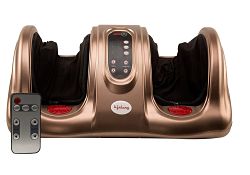 This foot massaging device from the house of Lifelong is designed to offer a superior massage performance that assures full relaxation free from fatigue and pain by taking care of all the pain points in the foot. The customized heat operation of this massager can help get rid of muscle cramps, tension and sprain pains by relaxing the muscles and improving blood circulation.
This massage device works with the acupressure principle to stimulate the specific points to offer instant recovery from pain. The foot massager sports an ergonomic design with an LED display, 4 kneading disks, easy to remove and wash fabric lining with zipper and a durable motor to deliver the best performance.
Price: Rs. 5,699
10. Lifelong LLM18 Foot Massager with Air Pressure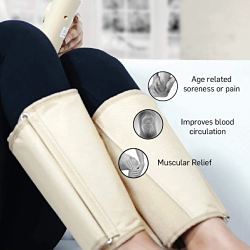 The Lifelong Foot Massager is a perfect choice to get relief from pain from your feet, thighs, hands, calves and legs in just 15 minutes. This massager works with the unique air compression technique to remove pain and fatigue from various body parts while offering excellent relaxation.
This massage device comes with an auto shut off feature that turns it off automatically after 15 minutes of invigorating foot massage. The massager has Velcro wraps that are flexible to fit people of different ages. It works with 2 modes to assure great comfort and has a handheld controller to use it effectively.
Price: Rs. 4,499
Before compiling this list of foot massagers, we have weighed them based on some significant features like the type of massage, heat settings, portability, speed control, design, etc. Show your feet some amount if love by choosing one of the products from the above list.