August 3, 2020
Best Juicers In India
If you have taken the resolution of eating healthy this New Year to flaunt a great body, then make sure your diet includes lots of fresh juices. Juicing up fresh fruits and vegetables is a quick way to get more nutrients and vitamins in fluid form.
The cost-effective way to enjoy a glass of chilled goodness with customized veggies and fruits is to juice it at your home. If you think choosing the best juicer is a bit overwhelming, then we are here to guide. Be it a centrifugal juicer, citrus juicer, manual juicer, or a masticating juicer, and we have covered it all for you.
Top 10 Juicers In India for 2020
1. Philips Viva Collection HR1863/20 Juicer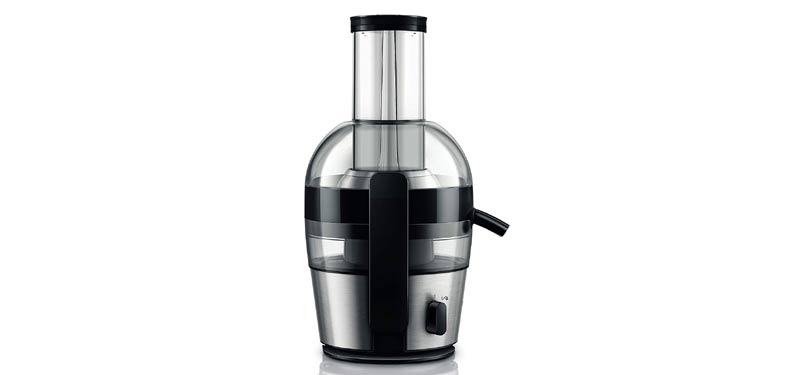 The Philips Viva Collection Juicer is an elegant product in glossy black with a 1-speed setting and has an 800 ml juice jug. It houses a 700 W motor to crush, mix, and grind fresh ingredients. The 75 mm XL feeding tube saves you the trouble of chopping hard vegetables and fruits like beetroots, carrots, and apples.
Best Features:
India's first centrifugal juicer with pre-clean feature
Ability to provide up to 2 liters of juice at once
Fitted with a see-through 1.2l pulp container
It utilizes QuickClean technology to rinse away the residue
Sturdy sieve with upside-down design for optimum juice extraction
Price: Rs. 7290
Check Price on Amazon
2. Kuvings Professional Cold Press Juicer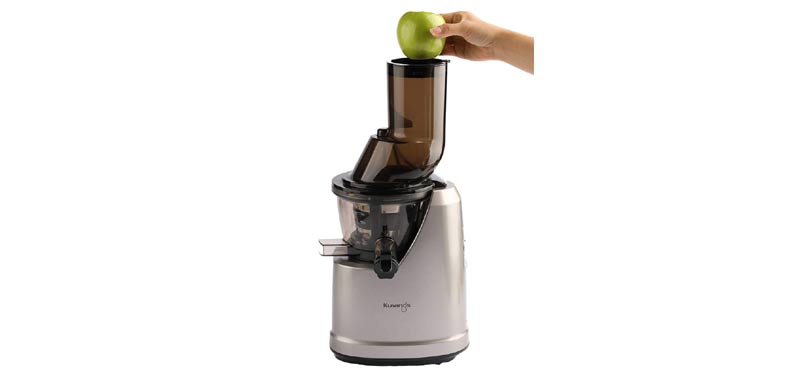 The award-winning Kuvings cold press juicer is a best-seller in the market that is equipped with a distinct patented cleaning tool. Use this juicer to get fresh nut milk from almonds, green smoothies, and fruit juices. The BPA-free plastic body has a 76 mm patented mouth with ULTEM auger to load the fruits or vegetables fully. The cleaning kit offered with this product has a regular brush, rotating cleaning brush, and user manual.
Best Features:
Noiseless operation with 40 to 50 dB
Actual nutrients and taste remains intact
Powered by a brushless motor of 240 W with 50 rpm
Juice bowl with 400 ml capacity
Drum and lid comes with Safety Lock system
Price: Rs. 16900
Check Price on Amazon
3. BTC Hand Press Juicer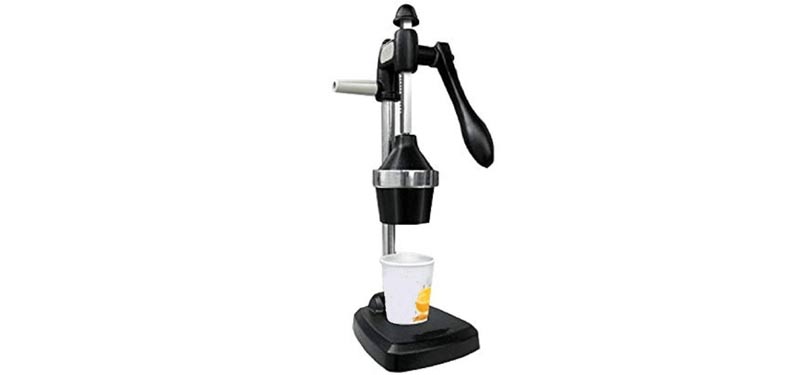 The brand, BTC is known for manufacturing more than 500 products with sturdy materials that have made them win the Government state award. The hand press juicer from BTC is designed with food-grade material that assures excellent durability. It is offered with an unconditional replacement warranty of 20 years, which makes it a trustable choice. It can be used for extracting the juice from fruits like pomegranate, lemon, kinu, mosambi, and orange.
Best Features:
Tallest juicer in the Indian market
Supports manual operation
Simple hand-press mechanism
Heavyweight body of 4.5+ kgs
Has grip handle, pressure cap and strainer cup
Price: Rs. 1395
Check Price on Amazon
4. TIRU TRADERS Portable USB Electric Juicer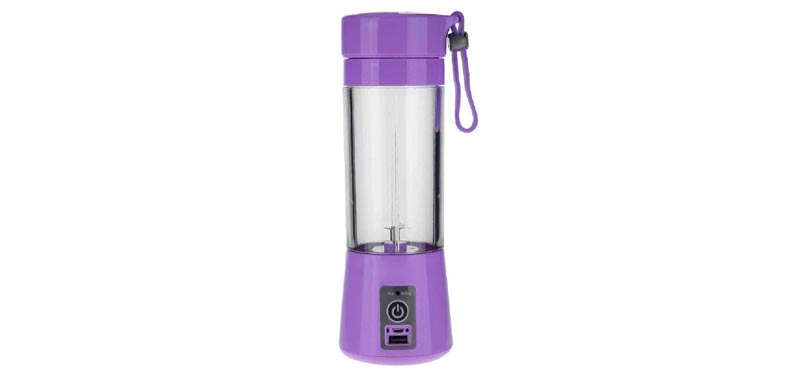 The USB electric juicer from Tiru Traders is a compact and portable product that flaunts a sleek design featuring a juicing base and transparent juicer bottle. It has a lightweight design, and the base of the product has four stainless steel blades to grind the fruit pieces without any lumps. This juicer is the best choice for those who wish to have fresh fruit juice on the go, as it can be connected to devices like laptops, cars, or other devices with its USB port.
Best Features:
Prepares juice in 1 minute
Has Power on/off button
Ideal for juicing fruits and vegetables
Auto power-off feature
Comes with electromagnetic induction safety switch
Price: Rs. 460
Check Price on Amazon
5. Sujata Powermatic Plus 900 Watts Juicer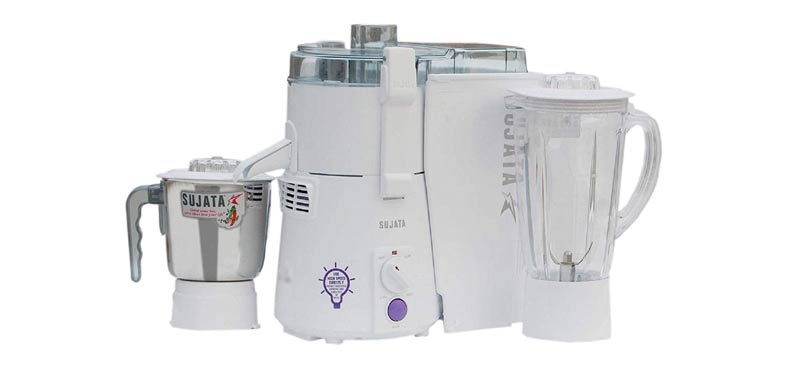 If you are on the lookout for a reliable kitchen companion with a sturdy body and safety features, then look no further than the Sujata Powermatic Plus Juicer. It has a shock-proof body with a compact design. The powerful 900W motor fitted with double ball bearings can operate at the rate of 22000 rpm and can run continuously for 90 minutes.
Best Features:
Comes with one-of-a-kind honeycomb filter mesh for better yield
Offered with a centrifugal juicer and a mixer jar
It has razor-sharp blades crafted from high strength stainless steel
Rotary speed switch with 3 settings and a whipper button
Price: Rs. 4890
Check Price on Amazon
6. Philips HR2775 1-Litre Citrus Press Juicer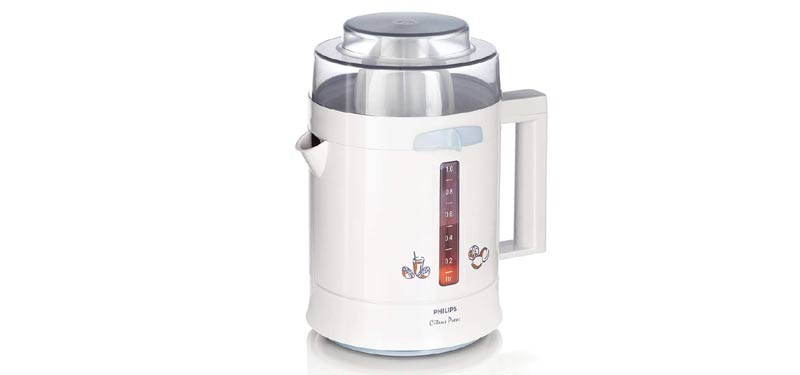 If you love to kickstart your morning with a glass a fresh citrus juice, then bring home the Philips citrus press juicer to experience power-packed performance every time. The drip stop feature prevents spillage or dripping of juice to maintain mess-free kitchen counters. The built-in cord storage area at the base of this citrus juicer prevents wire clutter while the product is not in use.
Best Features:
Sturdy PP and SAN unbreakable plastic body
Powered by 25 W motor
Comes with a 1-liter juice jar with markings and pulp storing jar
Stylish handle with easy-grip
Pulp selector option for thick and thin juice consistency
Price: Rs. 1045
Check Price on Amazon
7. Sujata Powermatic PM 900-Watt Juicer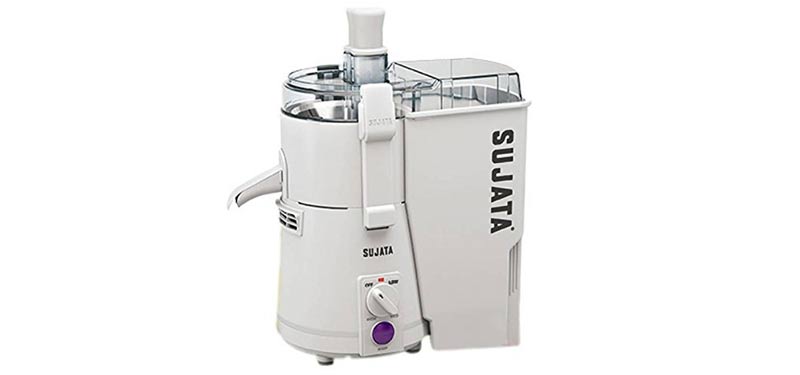 The Sujata Powermatic juicer is designed to be an all-rounder in your kitchen, as it assures durable performance for many years. This versatile home appliance sports a shock-proof body with a low maintenance design to ensure long-lasting service. The 900 Watts motor of this juicer featuring double ball bearings performs with 22000 rpm to maintain the authentic aroma and flavor of the fruits.
Best Features:
It is offered with a distinct honeycomb filter mesh for high juice yield
It has 3-speed settings and a whipping function
Unbreakable and transparent jar with high strength SS blades
Continuous running for 90 minutes
Price: Rs. 4340
Check Price on Amazon
8. Philips HR1855 Viva Collection Juicer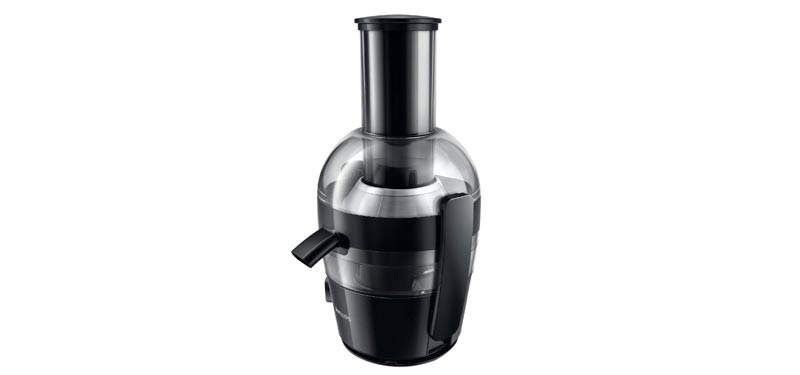 The Philips juicers from the Viva series are designed with advanced features and revolutionary technology to provide more value for money. This juicer is capable of extracting more juice from fresh fruits and can give you 2 liters of juice in one go. It comes with easy to assemble parts that are dishwasher safe.
Best Features:
Country's first centrifugal juicer to have a distinct pre-clean feature
Powered with QuickClean technology for 1-minute cleaning
Automatic removal of residue fibers
Extra large feeding tube of 75 mm to accommodate big fruits
Transparent pulp container
Price: Rs. 6460
Check Price on Amazon
9. Prestige PCJ 7.0 Centrifugal Juicer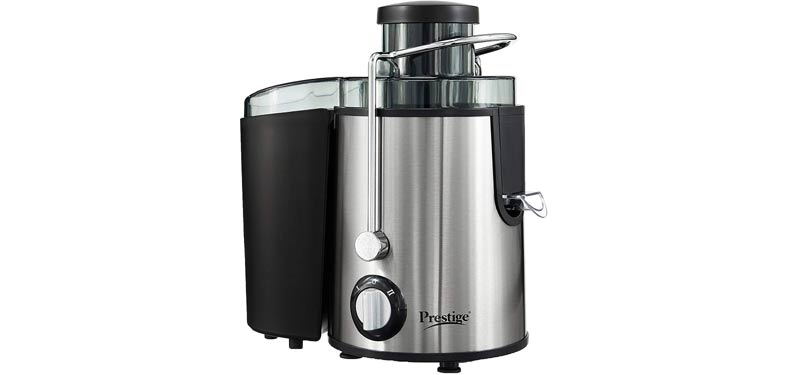 This centrifugal juicer from Prestige can offer you tasty and delicious fresh juices at the push of a button. This kitchen appliance flaunts a practical design in black ABS plastic and rust-free stainless steel body to complement urban kitchens. It also houses a powerful motor of 500 W to extract juice from soft and hard fruits. It has a dual locking system for safe usage and has a rotary speed switch.
Best Features:
Extra-wide feeding mouth
Anti-drip design
Sieve with latest design
Competent blades in stainless steel
Vacuum feet at the base to prevent skidding
Quick to clean
Power cord with a detachable design
Price: Rs. 2079
Check Price on Amazon
10. Kitchen Bazaar Elite Manual Citrus Juicer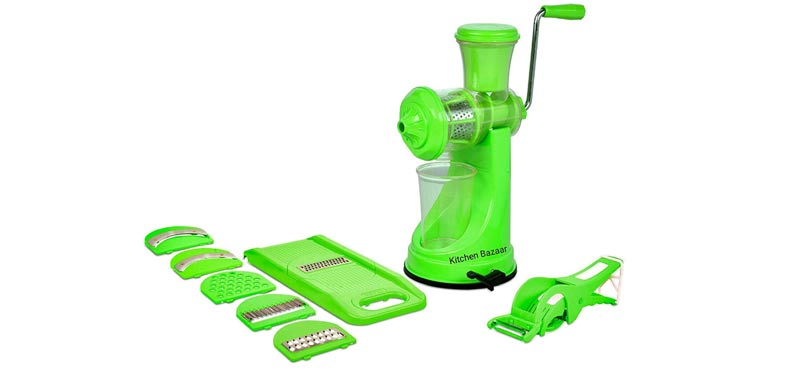 The Kitchen Bazaar manual juicer in green is a multipurpose appliance that can extract juice from fresh fruits, vegetables, parsley, spinach, chard, and lettuce. This product is built using a high-quality ABS plastic body and has a stainless steel blade with a strainer to deliver optimum juice extraction. The detachable body parts make cleaning a simple task.
Best Features:
Utilizes squeezing technology
It comes with a pusher to press vegetables and fruits
The handle at the side with easy-grip helps in better handling
The non-skid vacuum at the base prevents it from slipping
It has a transparent juice collector in plastic
Price: Rs. 431
Check Price on Amazon
We have chosen these products based on perspectives like juicing technology, cleaning process, sturdiness, aesthetic value, juicing power, the sharpness of blades, etc. We hope the list that we have compiled here has made your job of choosing the perfect juicer much easier. Shop online to get great deals while investing in a juicer.